Sustainability Mission Statement
Sustainability is not a destination that can be reached in a day, but Skingredients® is buckled in for the ride. We are on a journey to create a skincare range that is better for your skin and the planet.
The global beauty industry produces 142 billion units of packaging every year.1 That includes over 80 billion plastic bottles that are disposed of annually from just shampoo and conditioner alone.2 But it's not just the beauty industry that contributes to this ever-growing problem – plastic waste is a global, urgently pressing issue.
A whopping 91% of plastic isn't recycled,3 and a scary 11 million tons of plastic is predicted to be destined for our beautiful oceans each year according to the United Nations. It's these frightening facts that inspired us to be part of the solution, not the problem.
Our view is that small changes can make a big impact. There's no denying that there is a long road ahead of us, but we have a responsibility to be more sustainable and are committed to learning, growing and embracing more earth-conscious innovations. Skingredients has embarked on its "green" journey – and we're not just talking about Skin Veg!
Less packaging equals less waste. Here at Skingredients we are all about reducing our impact on the planet by choosing as sustainable packaging solutions as possible for our skincare products.  
You might be surprised to learn that there is no common consensus on what sustainability means in legal terms. We acknowledge that eco-conscious beauty comes in many forms, but we're focusing our efforts on addressing the "use-once-and-throw-away" culture that's prevalent within the skincare industry. 
It's our aim to reduce the plastic waste that's clogging landfills and polluting our incredible oceans. Our entire range of active-driven, clinically-proven skincare is housed in our reusable, durable outer tubes that have been designed to protect the integrity of the product housed within. Our refillable inner tubes contain your Skingredients formulas and are designed to snugly fit inside the protective outer tubes. The refillable inner tubes are fully recyclable, whereas the durable outer tubes are designed to last multiple uses and cannot be recycled currently. 
But this isn't a goal that was achieved overnight. Skingredients was intended to be a refillable skincare range when it launched in 2019 – however a sustainable packaging method that wasn't feasible at the time. We have been searching for a sustainable solution ever since and have finally found it in our refillable and recyclable packaging. 
A drop in the ocean still makes ripples. We know that every eco-friendly choice we make – big or small – will make a difference to the planet and its future. From sourcing ingredients and manufacturing our skincare, through to the packaging we use and how we ship our products; we've adopted a sustainable approach in every step of the Skingredients process. 
Here is a breakdown of the packaging and materials we use for our skincare: 
Refillable inner tubes: Made from polypropylene (aka PP) and polyethylene (aka PE), both of which are widely recyclable plastics – so be sure to dispose of the inner tubes in a recycling bin once you've used every last drop of your product!  
Nerdie tip: always thoroughly rinse and dry your inner tubes before popping them in your recycling bin. Otherwise, your Skingredients refills might not end up getting recycled! 
Outer packaging + delivery boxes: Durable and fully recyclable packaging that's made from cardboard – they'll deliver your skincare in style.  
Paper: The inserts we pop in your packages are fully recyclable – don't throw them away! 
Nerdiness incoming: we use a biodegradable soy-based ink that's easily removed during the de-inking process, which makes our cardboard packaging, delivery boxes and paper inserts easily recyclable! If a material is biodegradable that means it naturally decomposes without polluting the earth. 
Packing peanuts: Compostable and dissolvable packing peanuts that are locally sourced in Ireland. Travelling fewer miles equals a smaller carbon footprint. 
What difference does that make?
Our manufacturer has done the math to put into perspective the impact our refillable packaging has on the planet. Drum roll... By using our Skingredients' KeyFour refills 4 times a year (that's the typical usage), you are reducing your carbon emissions by approximately 60.2% (versus using our non-refillable packaging). **** That's a pretty impressive figure, don't you think?  
To get nerdie, when we say, "carbon emissions", we're referring to the amount of carbon dioxide – a polluting gas – released from a certain activity. In this case, that's creating your favourite Skingredients goodies!   
Nerdie note: Carbon emissions are measured as kg of carbon dioxide per 1000 pieces produced. The KeyFour includes PreProbiotic Cleanse, Skin Veg, Skin Protein and Skin Shield SPF 50 PA+++.  
The refill's recycling journey
You've washed, dried and deposited the refillable inner tubes in your recycling bin, which is now sitting kerbside ready for collection. Ever wondered what happens next? 
What can be recycled, and the process, differs so much from country to country. But in Ireland, the home of Skingredients, recyclables are taken to a specialist facility to get sorted into their different types. After all the materials are sorted by hand and machinery, most of the plastic materials are shipped abroad for recycling, with a small amount being recycled in Ireland. To put it simply, the refillable inner tubes get recycled into the same type of material, which is can then be used again. Woo! 
In the UK, local authorities are responsible for recycling, which means the process is slightly different from council to council. Most councils offer kerb-side collection and will distribute the plastic waste that's collected to recycling and waste management companies. 
Our protective outer tubes aren't recyclable yet – they're made from acrylonitrile butadiene styrene (ABS) and polyethylene terephthalate glycol (PETG), which are long-life, durable materials that are designed to last. While PETG is an easily recyclable material, the addition of ABS means that we cannot recycle our outer tubes. Having said this watch this space – we're committed to making our outer tube recyclable within the next 18 months. 
Similarly, our pumps aren't recyclable because they're made from a mixture of materials and contain metal elements. We are actively seeking a recyclable alternative to our current pump solution. We cannot do without pumps because they dispense the correct amount of product for hoomans® to achieve their skin goals. 
How long will our packaging last?
Our primary packs are as hard as nails. Ok, maybe not that strong, but pretty close! Your Skingredients primary pack will be your sink-side BFF for years – even longer if you're loyal to them. What's more, the pumps that serve your Skingredients goodness are built to last at least 4 refill cycles, but you obtain a new pump from us when you need one. We are on the lookout for a recycling solution to our existing pumps – so watch this space!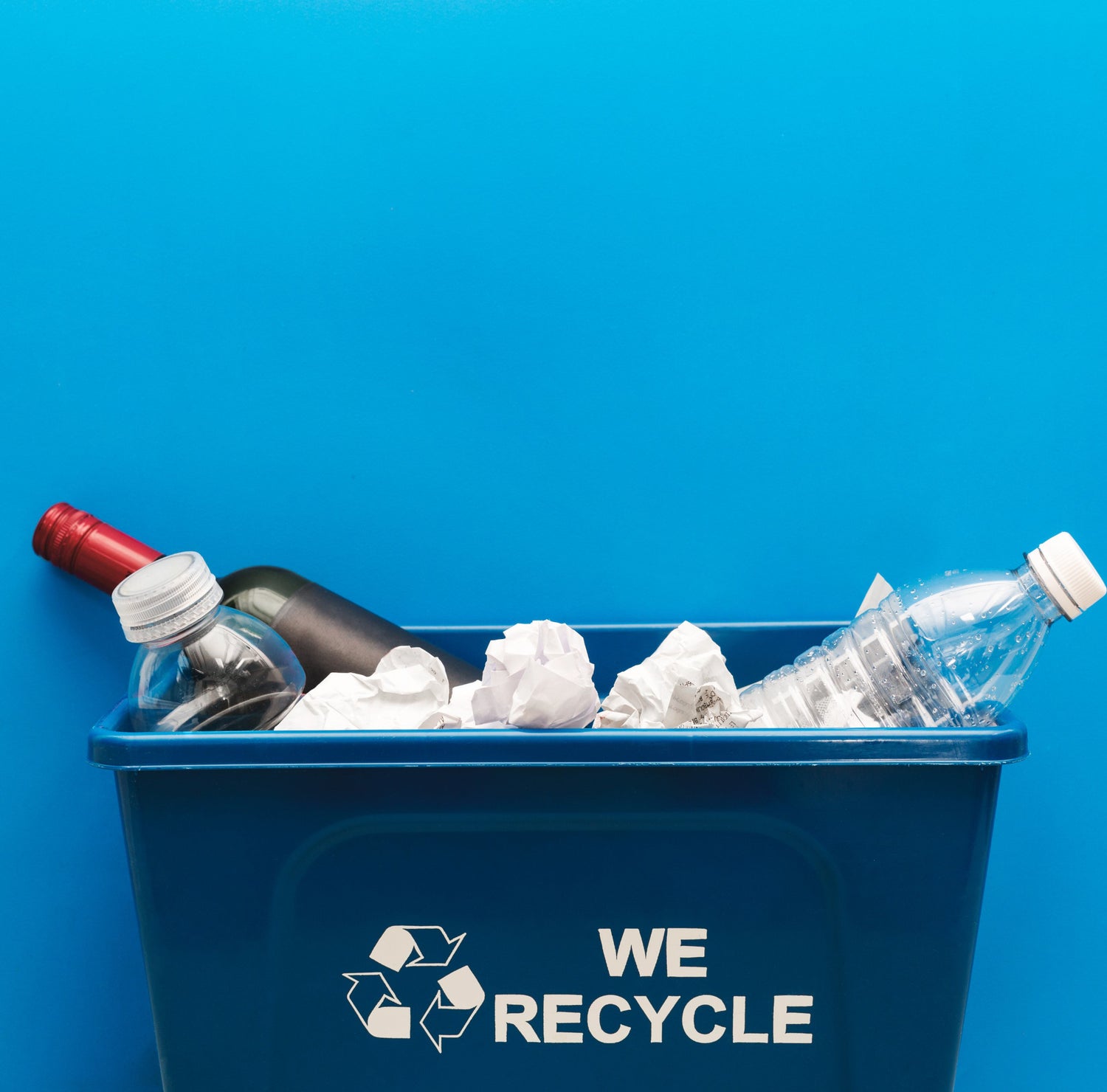 Why did we choose our packaging?
Skingredients is a skincare range that contains active ingredients galore to help hoomans reach their skin goals. These active ingredients are powerful and require specific conditions in order to work effectively – if these conditions are not met, the formulas are rendered useless.  
Therefore, we use airless, double-walled packaging to protect the integrity and efficacy of the hardworking formulas that you'll find within. We are all about helping hoomans address their skin concerns and reach their skin goals, and we need the right packaging to fulfil this. We are constantly looking for ways to improve our packaging solution and we are committed to making further progress in this area – within 18 months we promise to deliver a fully recyclable primary pack to market. 
It was important to us that we partnered with a manufacturer that shared our vision and we're proud that our manufacturer is committed to being as sustainable as they can possibly be. Our manufacturer has their own Sustainability Officer and Sustainability Charter. Plus, all their factories are ISO14001 certified, which means that they meet the international standard that specifies requirements for an effective environmental system. Essentially, they walk the walk and not just talk the talk.   
They have introduced many environmentally friendly processes in their factories to ensure that they are "doing better" by the planet. A few eco changes include investing in energy-efficient machinery, using geothermal energy, recycling rainwater collected from the roof for cooling purposes and heat recovery processing – all of which show their dedication to reducing their environmental impact.  
Is our manufacturer eco-friendly? 
We want to protect our oceans and the ecosystems that inhabit them, which is why we have partnered with Plastics for Change. It's their mission to reduce the amount of plastic that ends up in our oceans by collecting the waste and providing plastic collectors a fair income and access to better livelihoods. 
We have made an annual pledge to Plastics for Change that directly removes 28,000kg of plastic waste from clogging landfills and our oceans. For every Skingredients product that you purchase, you are directly removing one plastic bottle from landfill. ***** 
What about our ingredients?
It's true that Skingredients is focused on the materials that make our packaging, but the hardworking ingredients that we use to formulate our products are just as important. Every ingredient that makes it into our skincare goes through a meticulous auditing process by our manufacturers. It matters to us that all our ingredients are cruelty-free, vegan and RSPO certified. We are also awaiting our Leaping Bunny accreditation for all our products. 
What does it mean to be RSPO certified?
The Roundtable of Sustainable Palm Oil (aka RSPO) was born in 2004 as a result of concerns about the impacts palm oil was having on the environment. A RSPO-certified product gives the consumer assurance that the palm oil used in the product has been produced sustainably.  
Palm oil producers are subject to thorough verification by accredited certifying bodies to make sure standards are up to scratch. It's important that these high principles are upheld to prevent deforestation and the loss of habitat of endangered species such as orangutans, pygmy elephants and Sumatran rhinos.  
We're proud of our progress, but we're far from finished. We are continuously reviewing sustainable alternatives to the materials that we're currently using. Our goal? To use post-consumer resin (PCR) for the entire range of Skingredients skincare. Reusing materials that are destined for landfill means that we can lessen the impact of our own plastic production. Plus, our neutrality offset programme with Plastics for Change directly reduces the amount of plastic that's already out there – a win-win situation in our eyes. 
The Cleanse Off Mitt is a reusable and washable pre-cleansing tool that's made from microfibre. During the design process, we looked at using several materials for our mitt, including microfibre, bamboo and cotton. At first glance, bamboo and cotton are more sustainable fibres, however after thoroughly researching all materials, we concluded that microfibre was the best solution for our reusable cleansing mitt.  
Microfibre doesn't require much water during production and doesn't destroy or pollute the environment in which it's made, much like bamboo and cotton. We understand that we have a long way to go in our journey to becoming more sustainable and are continuously reviewing sustainable alternatives to the materials that we're currently using. We're hopeful that more sustainable solutions will become available to us in the future, and we're committed to embracing them when they do. 
What about the Cleanse Off Mitt?
References
* The Daily Telegraph, 2019
** Climate Action, 2019 
*** National Geographic, 2018 
**** Data supplied by manufacturer, 2021. 
***** Average weight of a generic 500ml plastic bottle = 20g. 28,000,000 / 20g = 1.4m plastic bottles removed from landfill each year on the back of our pledge. 1.4m divided by 900k units (our annual production) = 1.5 bottles removed from landfill for every Skingredients product purchased.