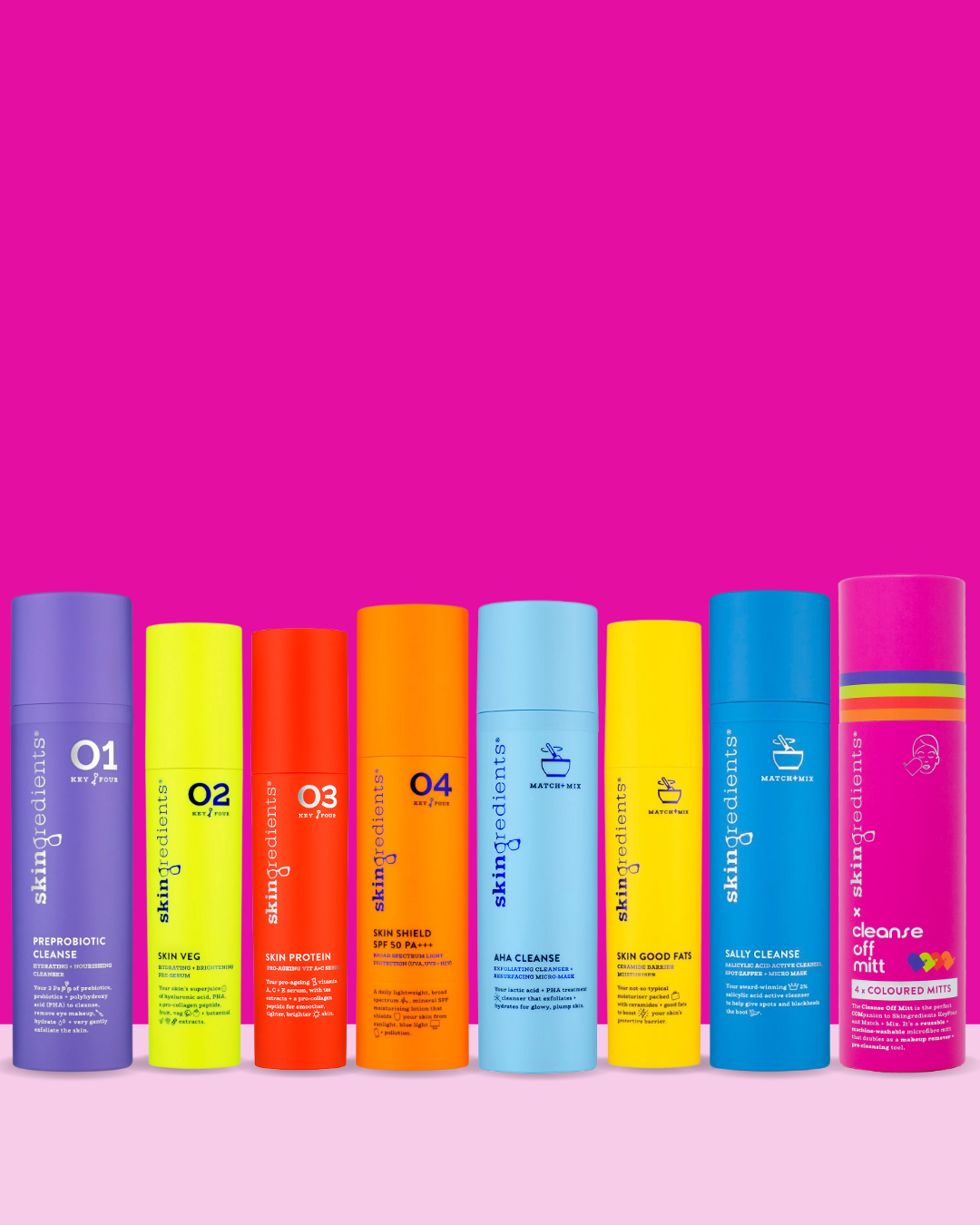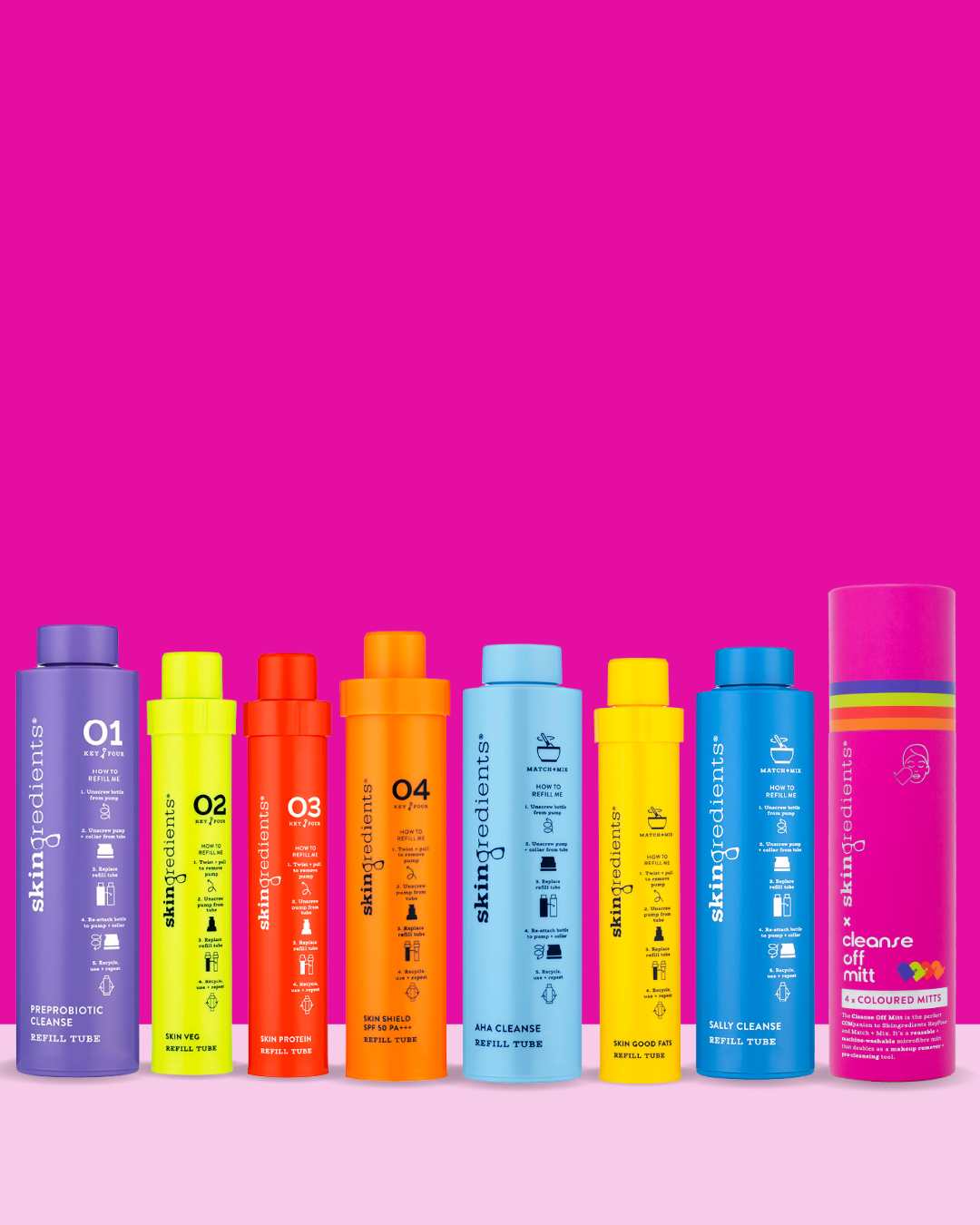 SKG All Stars
Regular price

Sale price

$271.52

Unit price

per
Our most luxurious and skin-fulfilling bundle yet! Our SKG All Stars collection contains the full Skingredients product range and all you need for healthier, happier skin. Encompassing our Key Four range and Match + Mix line, this mega bundle is the ultimate gift to yourself and your skin or that person you (really) love.
This bundle contains:
Skingredients PreProbiotic Cleanse Hydrating Cleanser, your nourishing daily use wash, packed with skin goodness (thanks to the 3P's - prebiotics, probiotics and polyhydroxy acid) and equipped to wash away all traces of the day without leaving the skin tight or uncomfortable.
Skingredients Skin Veg Hyaluronic Acid Serum: Just what the (skin) doctor ordered, Skin Veg is a hydrating serum that's packed with fruit and veg extracts to infuse your complexion with the nutrients it needs to be strong and healthy. Hyaluronic acid lies at the base of this nourishing formula, with the humectant attracting and keeping moisture within the skin – and giving you a plumper, bouncier complexion.
Skingredients Skin Protein Anti-Ageing Retinoid Serum, our genie in a (red) bottle! Packed with retinyl palmitate (a gentler, fatty version of vitamin A), this youth boosting potion targets the skin at a cellular level to address a multitude of skin woes including fine lines, dullness, excess oil and uneven texture.
Skingredients Skin Shield Moisturising + Priming SPF50 PA+++: Your essential daily step + more! Skin Shield provides high factor, broad spectrum protection against UV rays, HEV (blue) light and environmental pollution AND imparts a dewy, peachy tint. Worn alone or under makeup, this multi-use face base is adored by makeup artists, including Wayne Goss, who described Shield as his 'holy grail of sunscreens.'
Skingredients Skin Good Fats Ultra Hydrating Ceramide Moisturiser: A hug in bottle, Skin Good Fats provides deep comfort by enveloping in a blend of skin native lipids. Our most nurturing formula, Good Fats is great when you need a little extra hydration during the winter months or all year round as a night cream.
Skingredients AHA Cleanse Brightening and Exfoliating Lactic Acid Cleanser: Who turned the bright on? AHA Cleanse is our show-stopping, glow-inducing active cleanser. On a crusade against dullness, AHA is powerful enough to remove dead skin cells at ease, AHA keeps skin health a priority with a hydrating lactic acid blend which sloughs the skin but with respect to the skin barrier. Use 2-3 nights a week for an enviable glow.
Skingredients Sally Cleanse 2% Salicylic Acid Oil Control Cleanser: Our multi-award-winning, 2% salicylic acid treatment cleanser, Sally Cleanse is your gal when it comes to clearing decongested skin. Salicylic acid is an oil-soluble beta-hydroxy acid (BHA) that penetrates deep into pores to dissolve the sebum + dead skin cells, helping to tackle spots, blackheads, lumps + bumps. Sally also moonlights as a micro-mask, effectively exfoliating the skin's surface for smoother results and helping to lift away excess oiliness for a matte finish.
Cleanse Off Mitt 4-Pack: Swipe and glow with our reusable, portable cleansing companion! Just add water to remove all traces of makeup, dirt and debris before following with your cleanser of choice.
Who's it for?

"Anyone serious about skincare and wanting to build a solid, effective regime. Those wanting to boost their skin health and streamline a bulging bathroom cabinet. Skin Protein and Sally Cleanse are not suitable for mama to be's or those with extremely sensitive skin. "
Tips + Tricks

"In need of some additional hydration? PreProbiotic Cleanse moonlights as a nourishing micro-mask! Apply to the skin and leave for 20 minutes before removing with your Cleanse Off Mitt and warm water.

To brighten and add a lit from within radiance to the skin, mix a little Skin Veg with your face base for a sheer glowy look.

Where is the eye cream you might ask? Both Skin Veg and Skin Protein have been tested as safe for use around the eyes and should provide enough hydration in this delicate area. "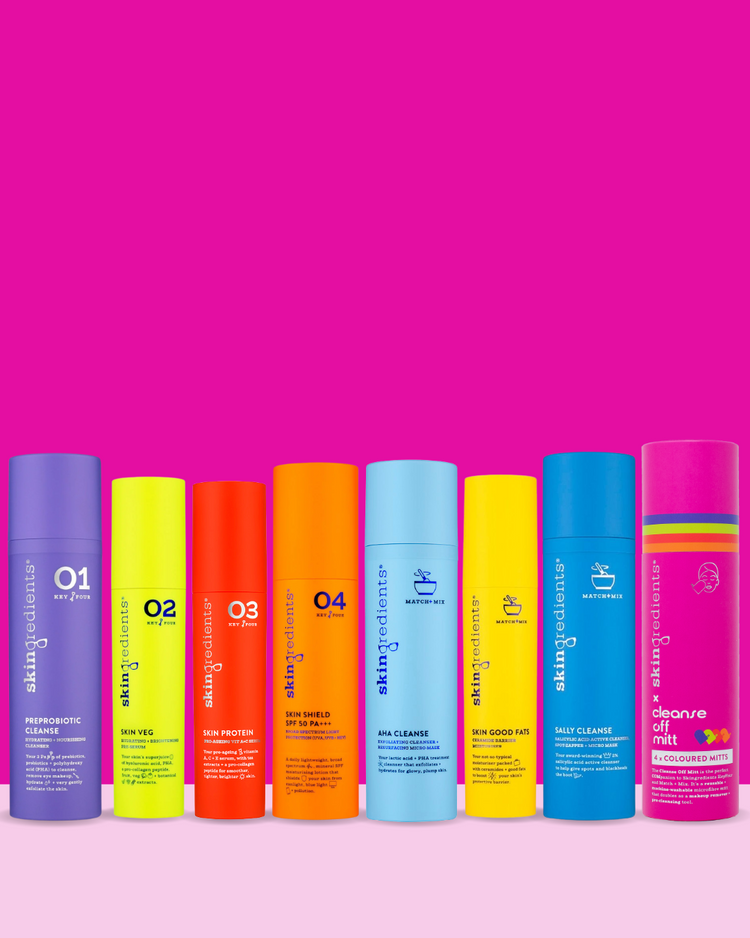 Very happy with my purchase , think I have converted my daughter too, to no 1 and 3 for her skin . Beautiful products
Thank you so much for taking the time to leave such an amazing review!
We are thrilled you are enjoying the products & hope your daughter loves them just as much as you.
Team Skingredients x