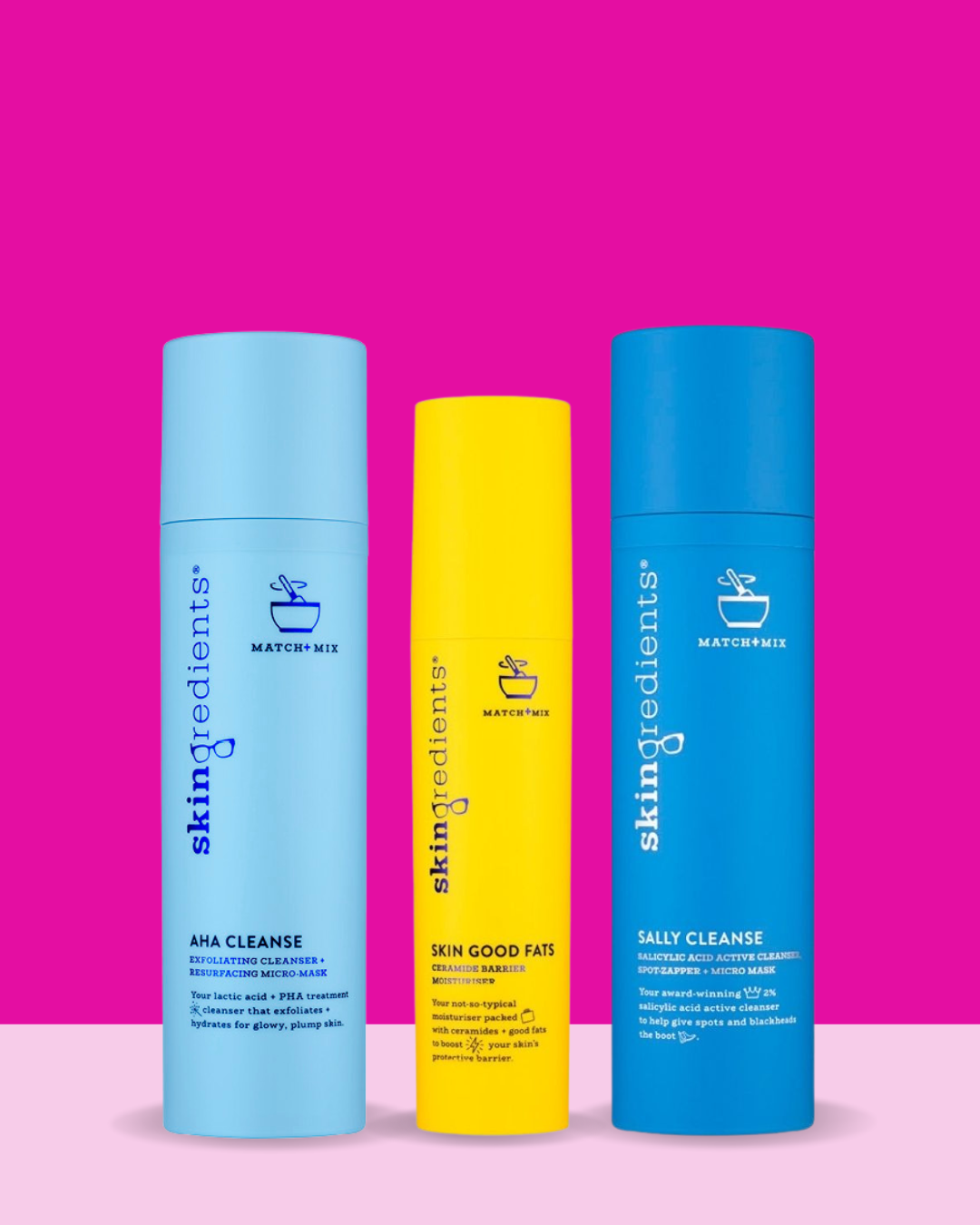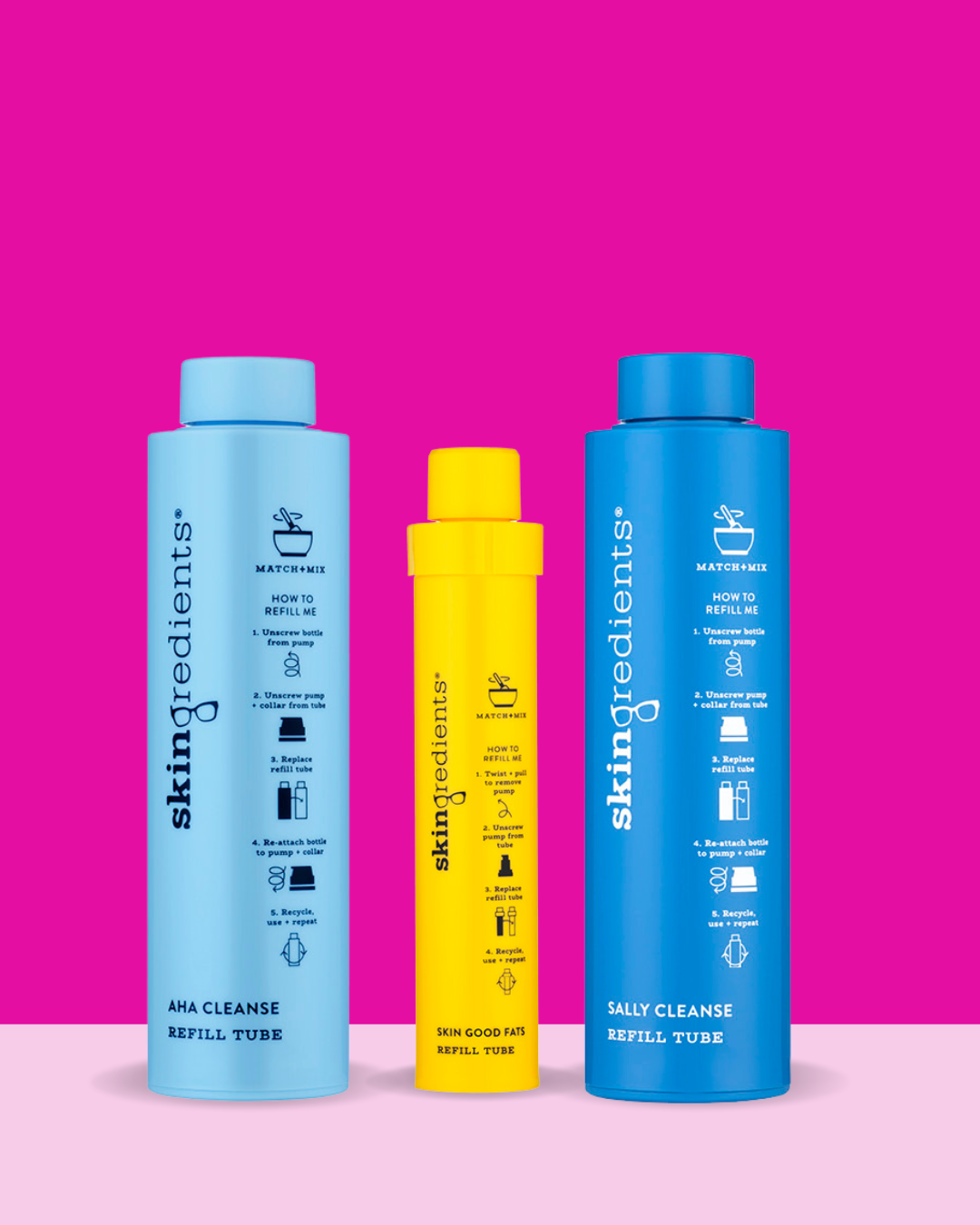 Match + Mix
Regular price

Sale price

$108.66

Unit price

per
They may be "add-ons" to your Skingredients core recipe, but this trio of skin treasures have become so popular we decided to give them a bundle of their own! Each product in the Match + Mix range works to address your individual skin concerns and help you reach your skin goals. Incorporated into your core routine when your skin needs it (and as advised on our individual products), each product provides a solution to your most troublesome skin dilemmas.
This bundle contains:
Skingredients Skin Good Fats Ultra Hydrating Ceramide Moisturiser: Healing, hydrating and anti-inflammatory, Skin Good Fats is a barrier balm that works by replenishing your skin's essential fats, vitamins and goodness to bring equilibrium to your skin. With a buttery balm texture, Skin Good Fats contains a comforting blend of Ceramide NP - a skin-native lipid that helps improve the skin barrier function, Shea butter glycerides - a moisturising ingredient derived from shea butter fatty acids and Avena sativa (oat) kernel extract -a clinically-proven anti-irritant with antihistamine properties, making it ideal for those with sensitive or irritated skin, and anyone using acids or retinols.
Skingredients AHA Cleanse Brightening and Exfoliating Lactic Acid Cleanser: Enliven a lacklustre complexion with our radiance boosting active cleanser! A total glow-getter, AHA contains hydrating and gently exfoliating lactic acid to dissolve skin-dulling dead skin cells and fight fatigue fast.
Skingredients Sally Cleanse 2% Salicylic Acid Oil Control Cleanser: A powerful ally to those with oily skin, our Sally is a 2% salicylic acid treatment cleanser that's won multiple awards for its ability to tackle spots, blackheads, lumps and bumps! Salicylic acid is a beta-hydroxy acid (BHA) that deep dives into pores to dissolve excess oil and dead skin, for a clearer, calmer complexion. Also ideal as an on-the spot zapper, Sally can be applied directly to blemishes to quell inflammation and reduce redness.
Who's it for?

This trio of S.O.S. products provide a remedy for multiple skinmergencies! Sally Cleanse can be used as a wash-off spot-zapper or as a micro-mask. AHA transforms dull, tired skin into a vision of radiance with its glow-inducing blend of lactic acid. To use AHA Cleanse as a micro-mask, massage into cleansed skin avoiding the eye area, leave for 7 minutes and then remove. We recommend that you do this once a week, maximum. Skin Good Fats is like a hug for the skin, pacifying inflammation and quenching dehydration. For a more intensive shot of hydration, apply Skin Good Fats for 20 minutes and remove thoroughly.
Tips + Tricks

"Those with oily or congested skin, including blackheads or keratosis pilaris.

Those suffering with dullness, uneven skin tone or pigmentation.

Those who love a creamy moisturiser – this comforting product is luxuriously fat-filled, yet non-greasy

Those with irritated, itchy, red or flaky skin – boosts your skin barrier and helps to stop itchiness

Those with very dry skin – oils to take the place of those oils your skin is lacking

Those with oily skin who need extra hydration in the winter months

Please note that Sally Cleanse is not recommended for mamas-to-be and AHA Cleanse should be avoided by those with very sensitive skin. "