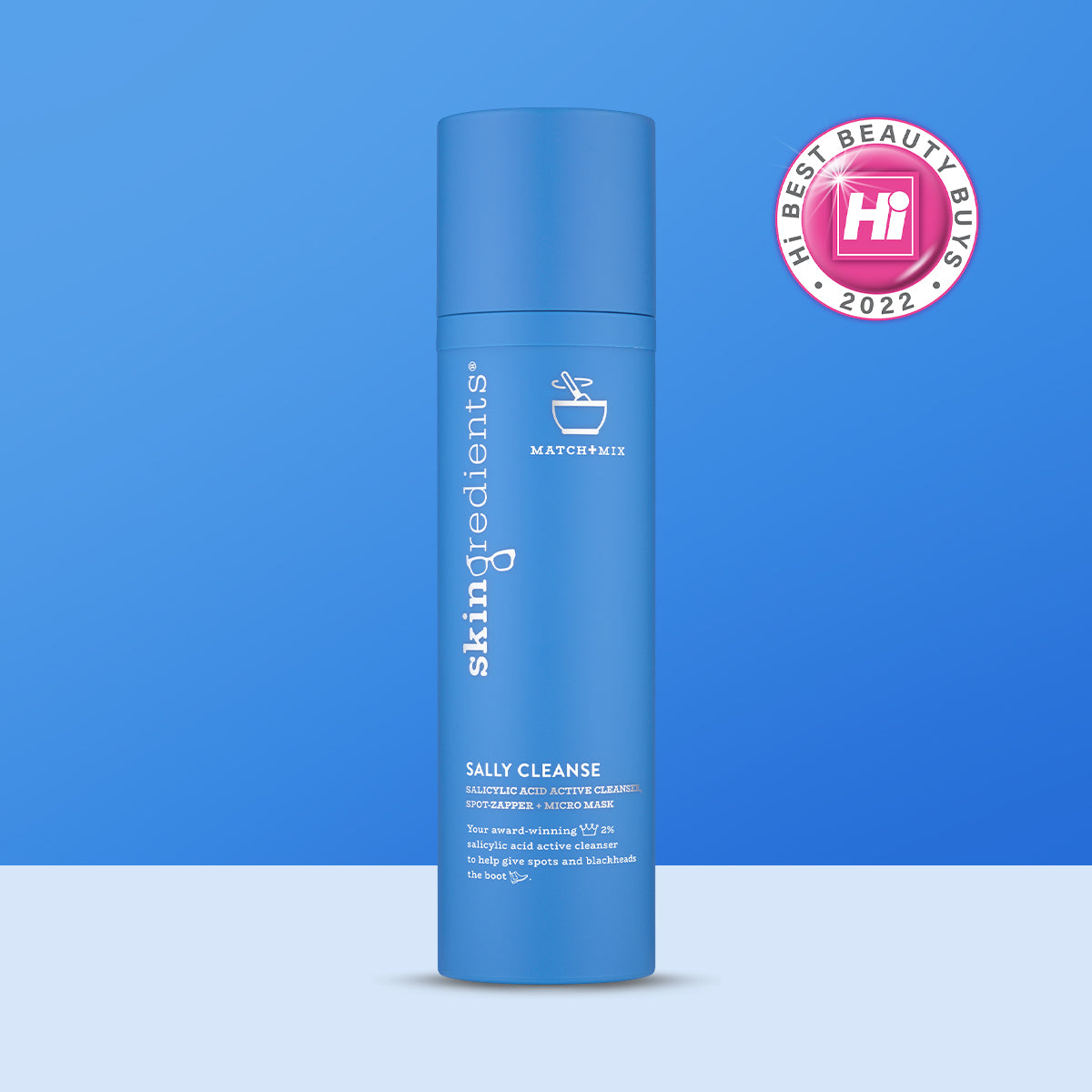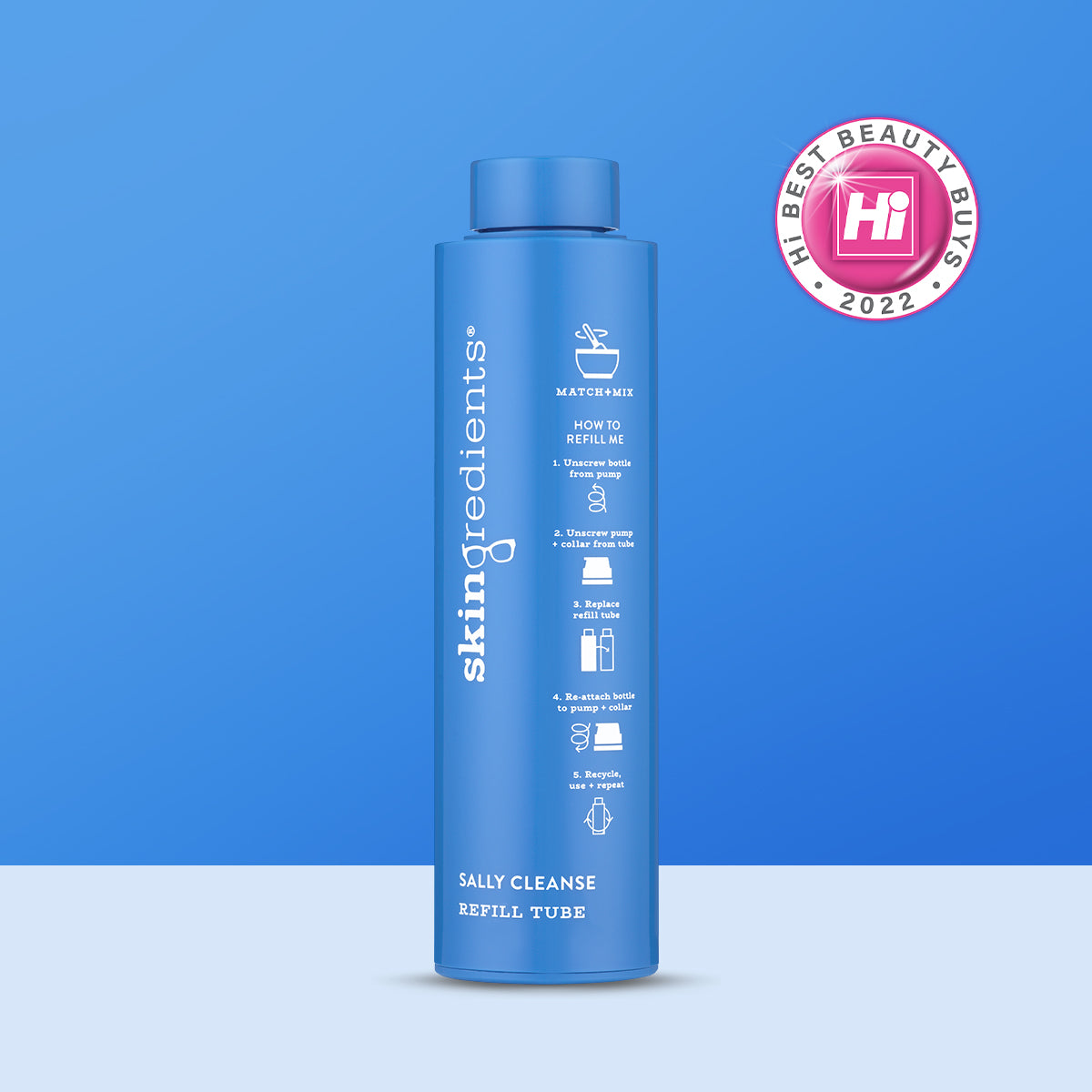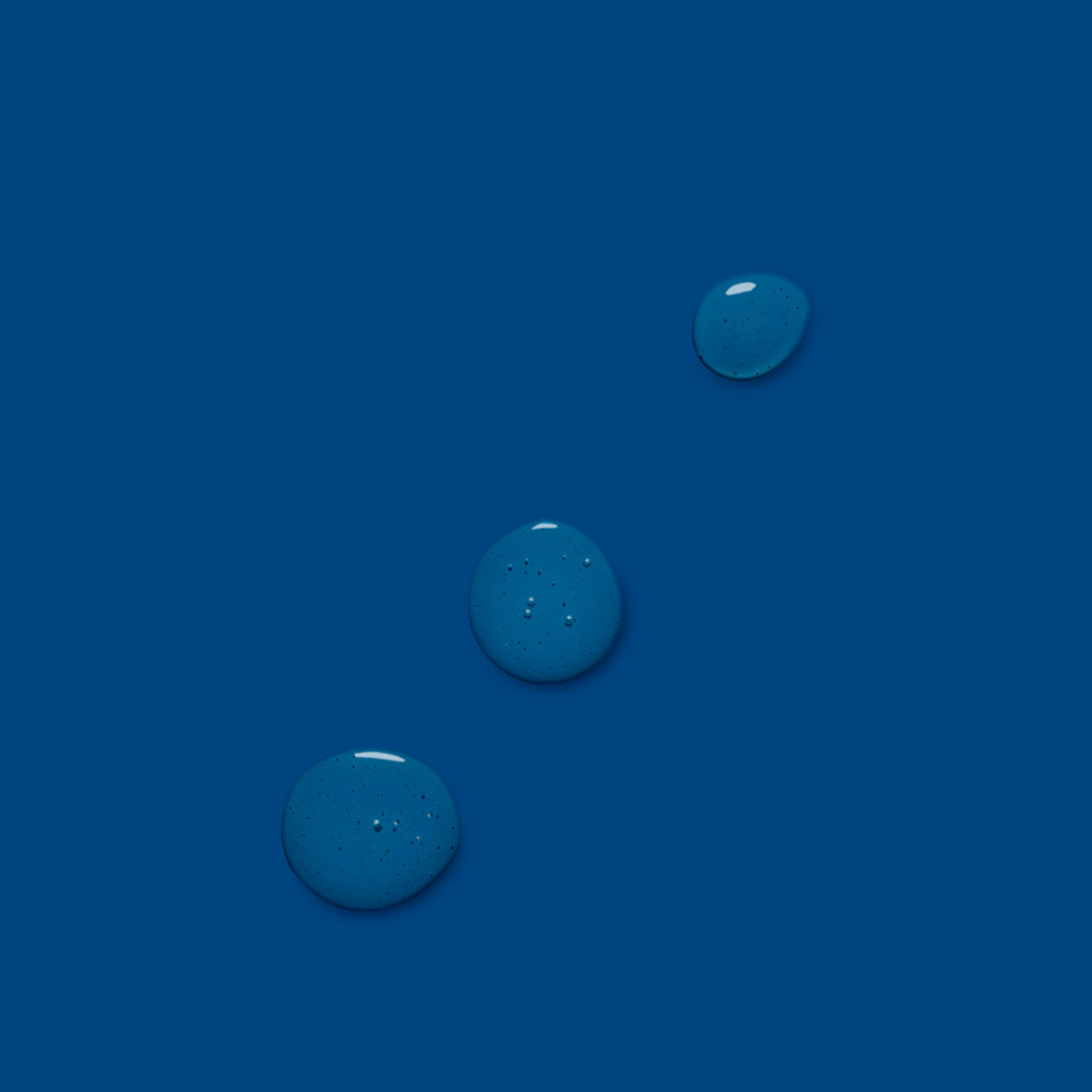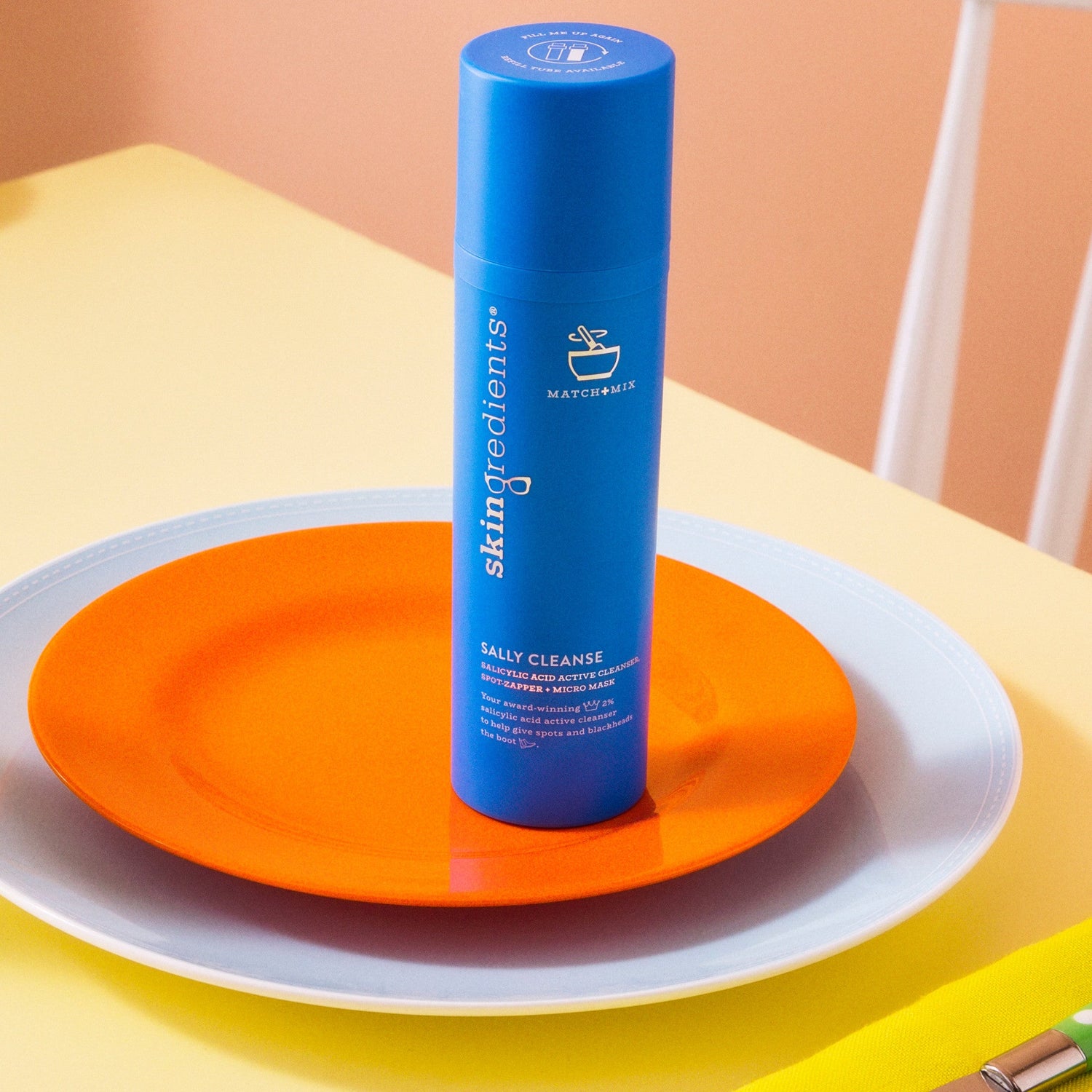 For clearer, balanced and decongested skin
Sally Cleanse 2% Salicylic Acid Oil Control Cleanser
Regular price

$36.24 /

100ml for long term love

Regular price

Sale price

$36.24

Unit price

per
Here's to putting Sally on a pedestal – that's Skingredients® Sally Cleanse Oil Control Cleanser (100ml), our multi-award-winning, 2% salicylic acid treatment cleanser that moonlights as a spot-zapper + micro-mask on the side. Salicylic acid is an oil-soluble beta-hydroxy acid (BHA) that deep dives into pores to dissolve the sebum (aka oil), + dead skin cells, which helps to tackle spots, blackheads, lumps + bumps. It'll effectively exfoliate the skin's surface for instantly smoother results and help to lift away excess oiliness for a matte finish – it also an anti-inflammatory, which eases redness in the skin. Sally Cleanse is part of our Match + Mix® range of skincare. They're "add-ons" to your Skingredients core recipe – that's the KeyFour – which work to address your individual skin concerns + help you reach your skin goals. Incorporate our Match + Mix products, like Sally Cleanse, into your AM + PM skincare routine when your skin needs it. She's a powerful ally to oily skinned hoomans, our Sally, but her company is best enjoyed in small doses – that's every 3rd PM to prevent skin irritation. Her BFF? PreProbiotic Cleanse of course. Use them alongside each other to exfoliate + give back to the skin. Plus, it's a skin-smoothing hero for bacne, chestne + bumne (be careful around sensitive areas) and keratosis pilaris, aka chicken skin. So you can't live without Sally? Make sure you keep your primary pack and switch to buying a refill tube next time. This Primary Pack tube is your tube-for-life that's made from resilient, ultra-durable materials.
Frequently Bought Together
Skin Goal
Clear, decongested skin
Skin Type
For oily, breakout-prone skin
Targets
Excess oil, blackheads + clogged pores
Extra Scoop
Active multi-use formula with 2% Salicylic Acid
Who's it for?

Those with very oily skin – salicylic acid helps to mop up excess oil and reduce redness
Those with blackheads (open comedones) and whiteheads (closed comedones) – Sally gets to the root of spots and blackheads by clearing pores
Those with under-the-skin spots – Sally can penetrate deep into the pore, reducing inflammation
Hoomans® over the age of 12
Those with keratosis pilaris (chicken skin) and bacne – use anywhere on your body
NOT for those with super sensitive skin – and we always recommend patch testing
NOT for pregnant mamas-to-be – using high amounts of salicylic acid is not recommended during pregnancy
NOT for those on high-levels of medicated drugs prescribed by a dermatologist – speak to your dermatologist if you wish to use salicylic acid alongside your regime
Tips + Tricks

Nerdie tip: Use Sally as a wash-off spot-zapper or as a micro-mask. If you're oily-skinned or prone to any form of congestion anywhere, whether it be blackheads of keratosis pilaris (chicken skin), Sally is your new best friend.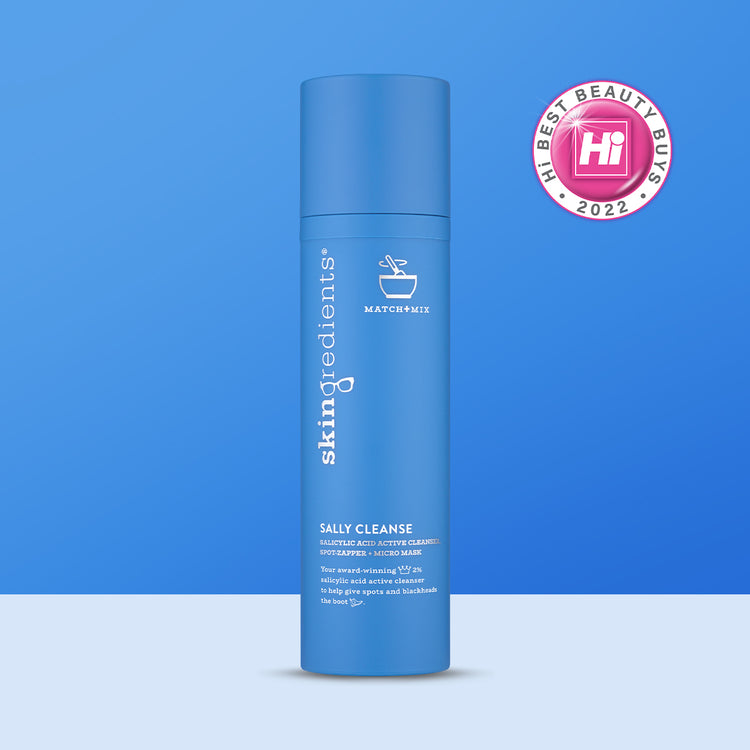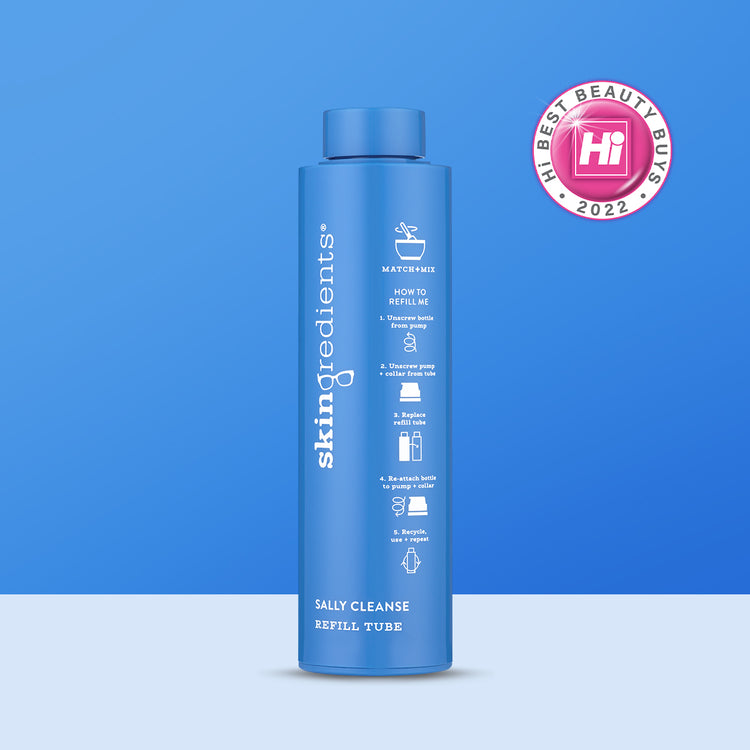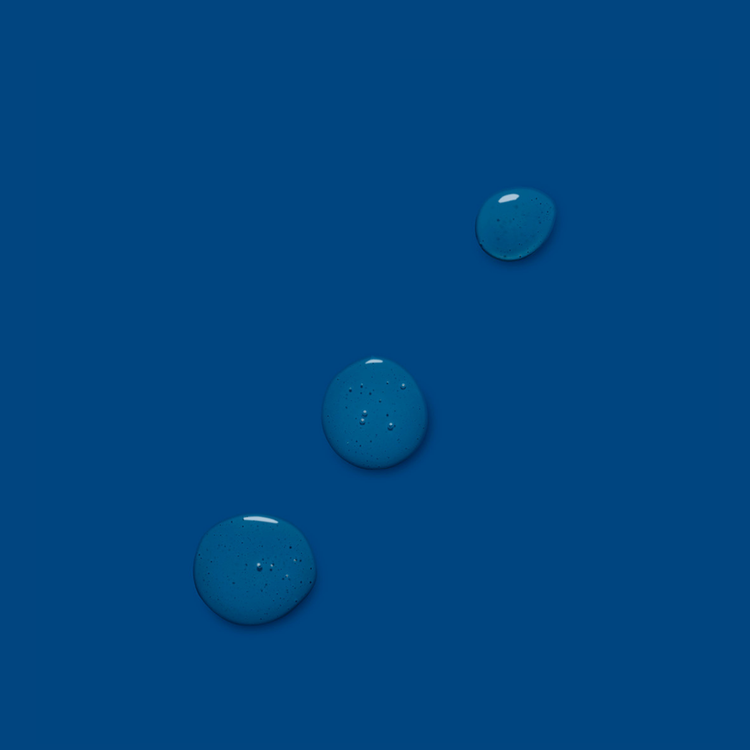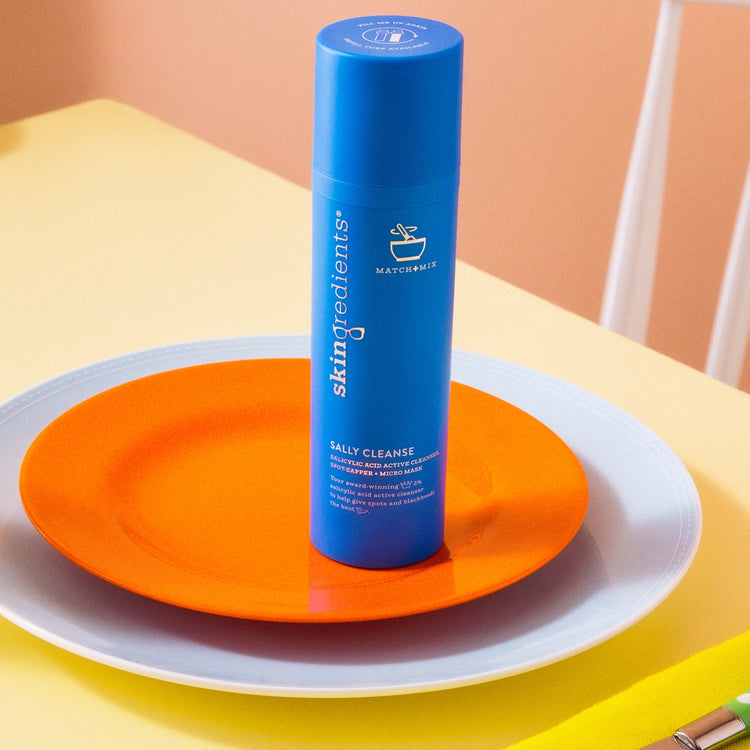 Salicylic acid
a beta-hydroxy acid (BHA) that dissolves oil and debris in the pore and exfoliates the skin
Salicylic acid
a beta-hydroxy acid (BHA) that dissolves oil and debris in the pore and exfoliates the skin
Full Ingredients
How to Use
Use in the PM every third night after pre-cleansing.
Pump a coin-sized amount of cleanser into wet palms. Massage into your face using firm, circular, outward motions.
After 60 seconds, rinse and remove with hands or the Cleanse Off Mitt®.

To use Sally Cleanse as a spot-zapper: Apply directly to spots, leave for three minutes to calm inflammation and remove thoroughly with water. To use Sally Cleanse as a micro-mask: massage Sally Cleanse into cleansed skin, leave for 2 minutes to target those pesky beneath-the-surface bumps and then remove. We recommend that you do this once-a-week maximum to avoid skin irritation.
Add to Cart
Excellent Sally Cleanse
My online order of my Sally Cleanse came very quickly in three days. I love Skingredients products! Sally Cleanse is brilliant for my skin. 100% recommend using Sally Cleanse for those with acne prone/hormonal breakout skin.
Excellent product
I have oily combination skin and have suffered with hormonal acne and this salicylic acid has really improved and reduced the spots
Sally cleanse
Cannot live without this cleanser, I suffer from hormonal acne and it keeps my spots at bay, I always have spare! Would 100% recommend!
Love Sally
I find Sally amazing, helps to control my oiliness and great for getting rid of spots.