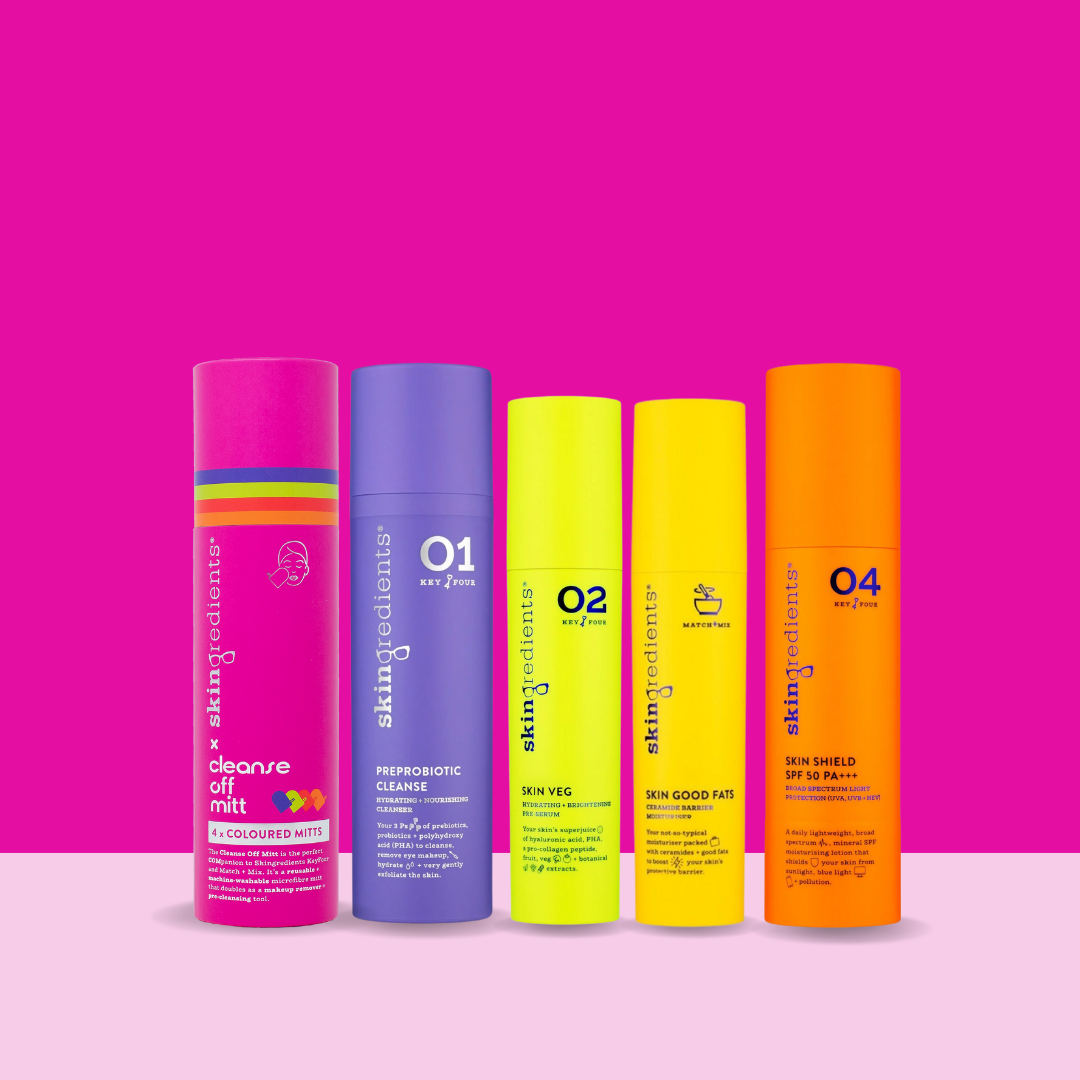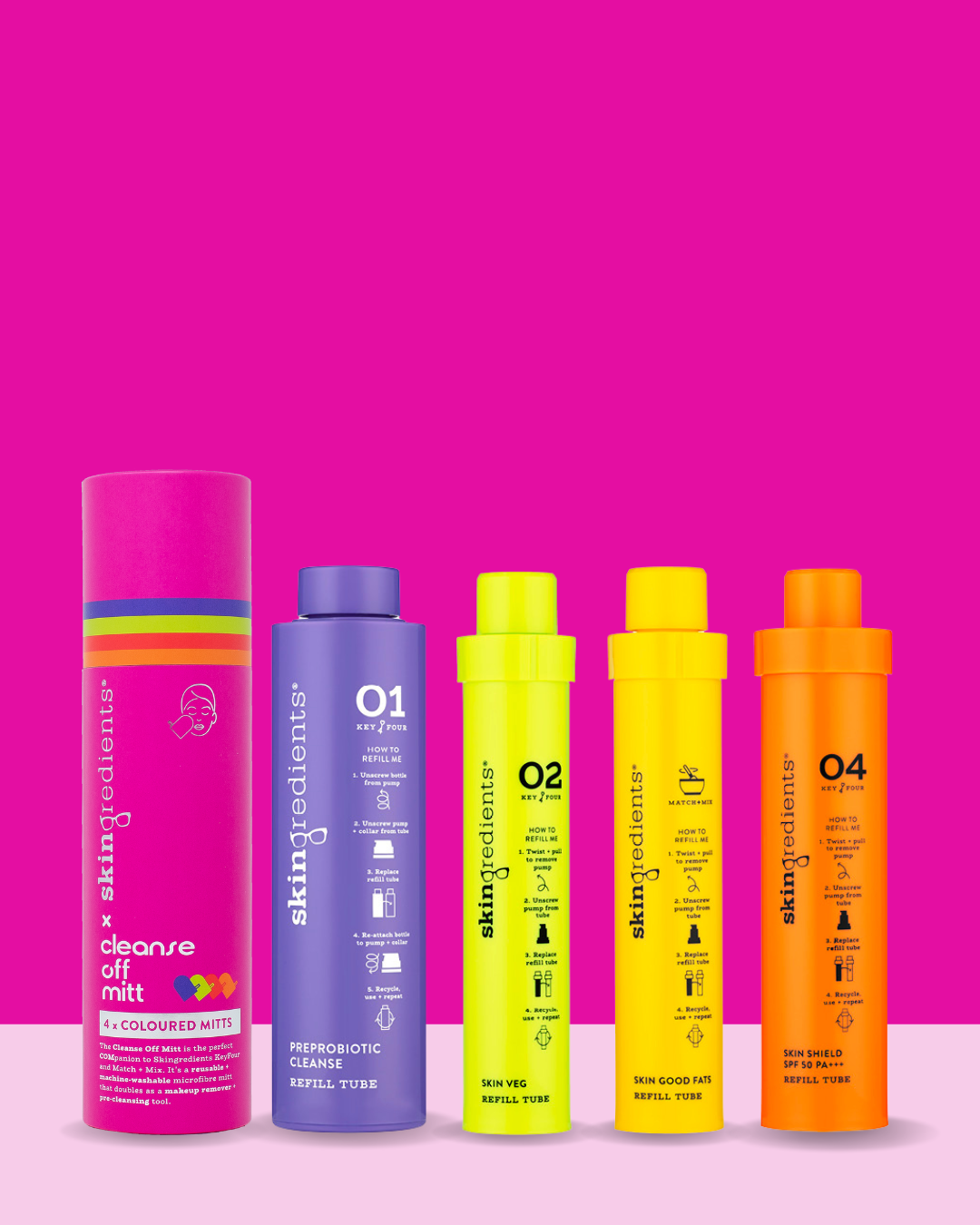 The Gently Does It
Regular price

Sale price

$175.64

Unit price

per
Treat your skin like the hard-working organ it is with nourishing, barrier respectful formulas. The Gently Does It bundle is ideal for all skin types but especially great for those with sensitive or sensitised skin, those intolerant to vitamin A, for mamas-to-be or for those want to strengthen their barrier for the winter months.

This bundle includes:

PreProbiotic Hydrating Cleanser: Deep clean your skin without stripping it of vital moisture with this nourishing cleanser. This cream, dreamy cleanser is formulated with the three 'p's – that's prebiotics, probiotics and polyhydroxy acid (PHA) which work together to balance the skin and prevent transepidermal water loss – a key cause of dehydration and winter dullness. It's also non-comedogenic and powerful enough to remove oil, pollution particles, SPF, and makeup, including stubborn eye makeup, while remaining respectful to your skin's natural barrier.

Skin Veg Hyaluronic Acid Serum: Containing sought-after humectant hyaluronic acid, Skin Veg is packed with all the nutrients and vitamins your skin needs to look and feel it's best! Energising and skin calming, this potent serum rebalances dry skin and 'drinkles,' leaving your skin bright and glowing with health!

Skin Shield SPF50 PA+++: The number one year-round essential, Skin Shield is a high factor, broad spectrum sunscreen that not only offers maximum protection from the sun's harmful rays but also doubles as a glow-inducing primer. The mineral formula means that this is ideal for those with reactive skin and allows you to avoid overloading your delicate barrier by removing the need for an additional makeup base.

Skin Good Fats: Your skin's winter coat, this indulgent ceramide barrier balm smooths and soothes a stressed complexion in a flash! Enriched with skin-native lipid ceramide NP, shea butter glycerides and grapeseed oil, Skin Good Fats replenishes your skin's essential fats, reducing inflammation and bringing comfort to itchy, irritated skin.
PLUS, a FREE Cleanse Off Mitt 4-Pack!
Frequently Bought Together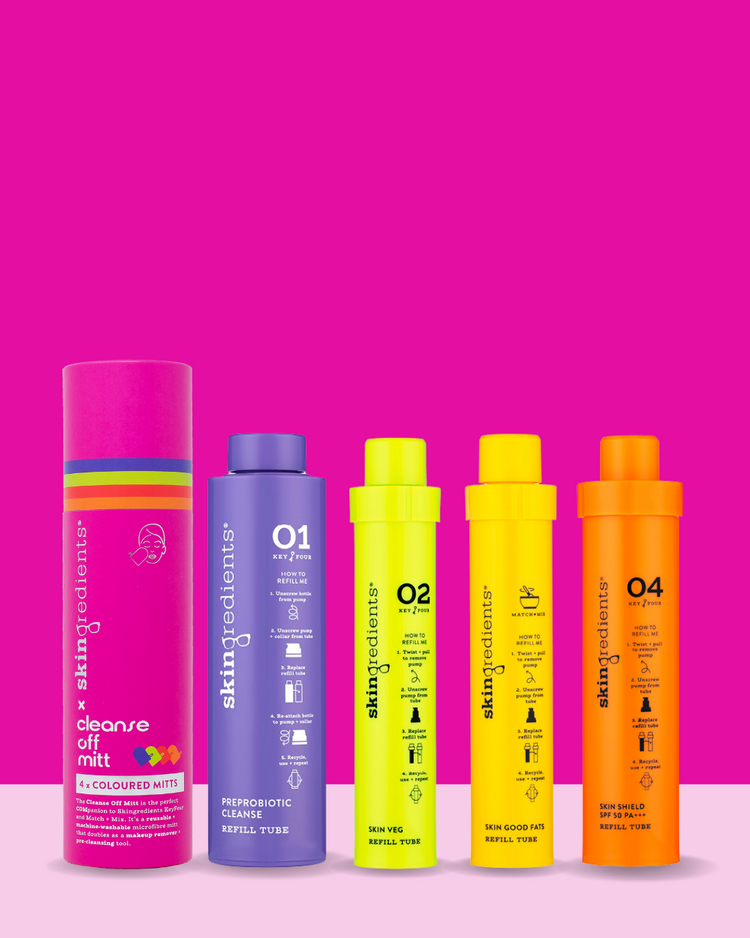 My skin
Love your products. Feel my skin has improved since I started using it
Really happy!!! 😍
Love the probiotic cleanser! My skin feels so clean and fresh after using it. The mitt is great at removing make up and cleaning my face! Love number 2 serum! It absorbs quickly and the good fats is amazing! I had a lot of dry patches and my skin is noticeably a lot less dry in these areas. The spf is lovely to apply and doesn't make my eyes water!! Really loving these products so far! Want to order number 3 next to the collection! ♥️
Outbreak of spots
Hi, I've had an outbreak of spots on my cheeks which is unusual for me so i'm not sure if it's a reaction to creams or not or, just a pure coincidence!
Hello Emma - if you would like to reach out to our team on hello@skingredients.com, we would be happy to offer you some advice and guidance on this. Team Skingredients x
Absolutely love it!
My skin is always very sensitive to new products but these have been just superb for it. I would highly recommend them👌