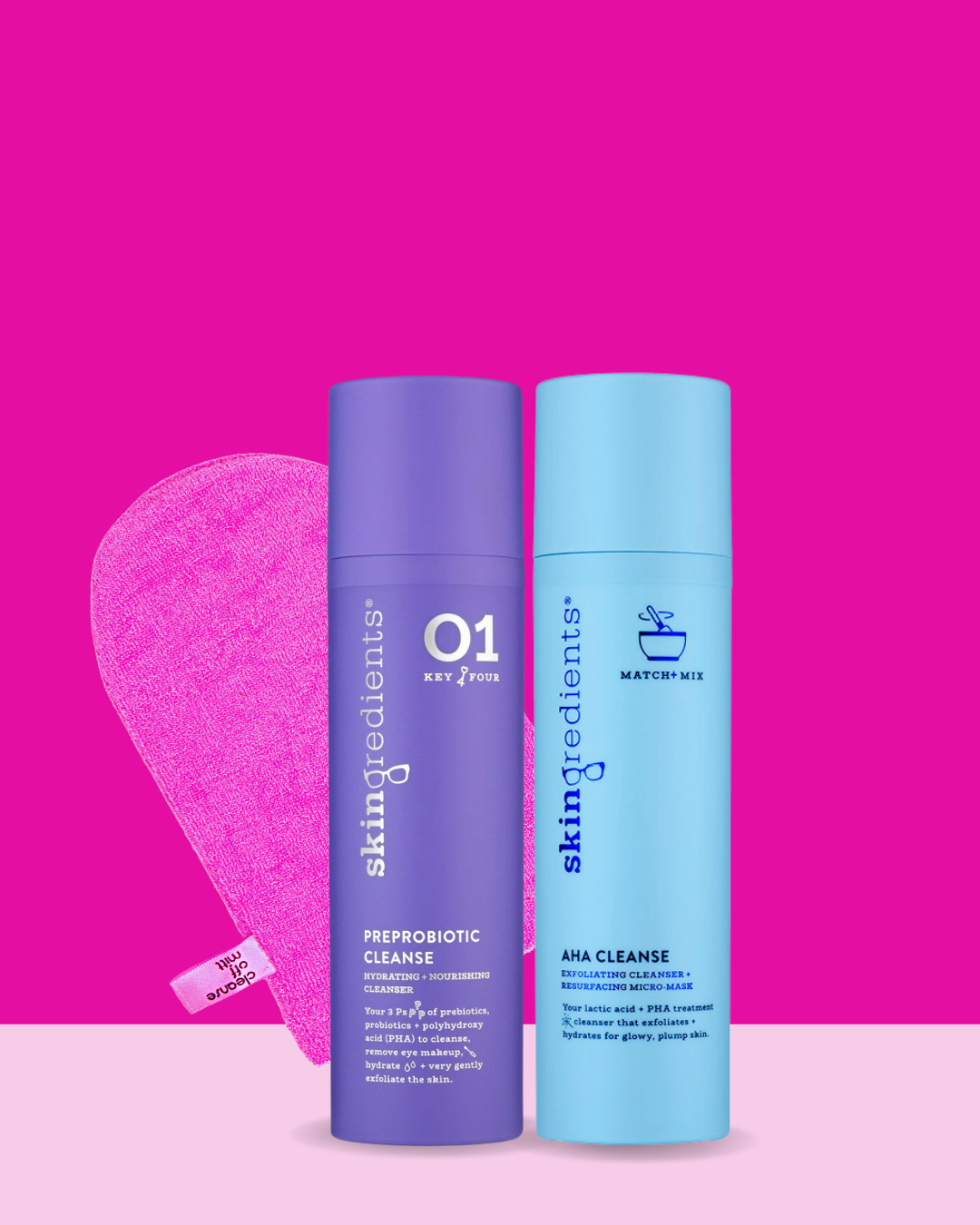 The Glow Cleansing Queens
Regular price

Sale price

$65.73

Unit price

per
When it comes to bestowing an other-worldly radiance, the Glow Cleansing Queens reign supreme.
Skingredients' glow-getting cleansers gently + respectfully work together to dissolve dead skin cells, boost skin regeneration and banish dullness for skin that shines with health.
The Glow Cleansing Queens bundle is great for most skin types (AHA should be avoided by those with super sensitive skin) but is ideal for those looking to tackle fatigue, uneven skintone or stubborn hyperpigmentation.
This bundle includes:
PreProbiotic Cleanse Hydrating Cleanser: Our dreamy, creamy, multi-award winner daily cleanser, PreProbiotic Cleanse is a lightweight cleansing lotion that is suitable for all! Gentle enough to nurture + balance your skin, PrePro also has the muscle to remove stubborn eye makeup and cleanse away the remains of the day. This cream cleanser is formulated with the three 'p's, it's brimming with prebiotics, probiotics and polyhydroxy acid (PHA) that work together to nourish and protect the skin barrier whilst doing a grand job of cleansing your skin free of any makeup, SPF and pollution particles.
AHA Cleanse Brightening + Exfoliating Lactic Acid Cleanser: an active cleanser and micro-mask that contains 8% lactic acid and 1% PHA, which work in harmony to brighten, exfoliate, hydrate and plump the skin. Part of the Skingredients Match + Mix range, we recommend using AHA Cleanse 2 to 3 times a week, alternating with PreProbiotic Cleanse, for luminous, glowing skin. Lactic acid is an alpha-hydroxy acid that exfoliates the skin by gently loosening and sweeping away dead skin cells from the skin's surface. This cleanser is suitable for most skin types apart from those with extra sensitive skin.
Cleanse Off Mitt: The perfect COMpanion to every cleanse, the Cleanse Off Mitt is your travel-friendly, reusable cleansing buddy which removes all traces of makeup naturally – including stubborn mascara! Simply add water and swipe across the face for a speedy but effective precleanse.
Tip: Nerdie tip: To use as a micro-mask, massage AHA Cleanse into cleansed skin avoiding the eye area, leave for 7 minutes and then remove. We recommend that you do this once a week, maximum. Or, to ease yourself in, mix 1 pump of AHA Cleanse with 1 pump of PreProbiotic Cleanse for a gentler cleanse or micro-mask.
Frequently Bought Together
Who's it for?

Stopping dullness in its tracks, the Glow Cleansing Bundle is great for those looking to tackle fatigue, uneven skin tone or stubborn hyperpigmentation. Although AHA tends to be tolerated by most skin types, those with super sensitive skin should patch test before use.
Tips + Tricks

Stick to lukewarm water: Although a splash of chilly water can be refreshing in the morning, many dermatologists believe that lukewarm is the ideal temperature for use on the face. This is because hot water can strip the skin of natural oils and lead to the skin becoming irritated and inflamed. It can also flare up the skin of those with conditions such as eczema, so the safest and most skin-respectful temperature is not too hot and not too cold.

Give it time: Allow yourself at least 60 seconds to massage your cleanser into the skin and give the formula a chance to get to work. A gentle massage in circular motions can help stimulate the lymphatic system, which boosts blood circulation for healthier, more energised skin.

Don't forget your neck! Remember that your neck should be included in your skincare routine too. Take cleanser from your hairline down the neck and across the decolletage for a full freshen up. Our motto is from the nipples up and a great cleanser that works well for this is Skingredients PreProbiotic Cleanse Hydrating Cleanser (€29, skingredients.com). This nourishing cleanser contains Lactobacillus a dairy-free probiotic that boosts the skin's natural moisturising factor for hydrated skin and Oligosaccharide, a hydrating and skin-soothing prebiotic that helps to prevent trans epidermal water loss (TEWL) and so gives back to the skin whilst also providing a thorough cleanse.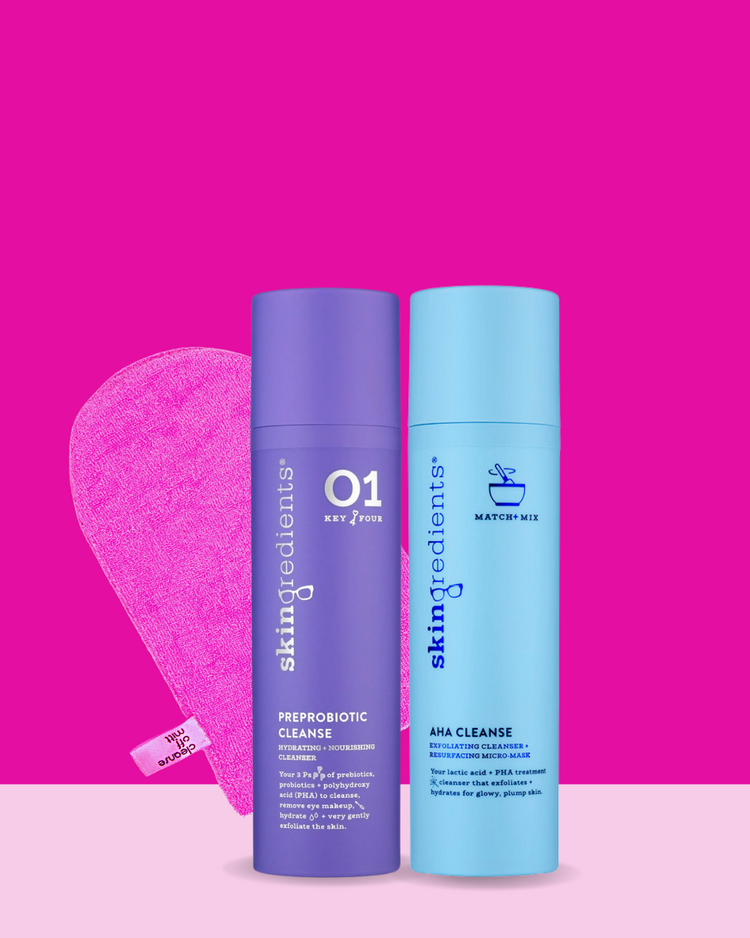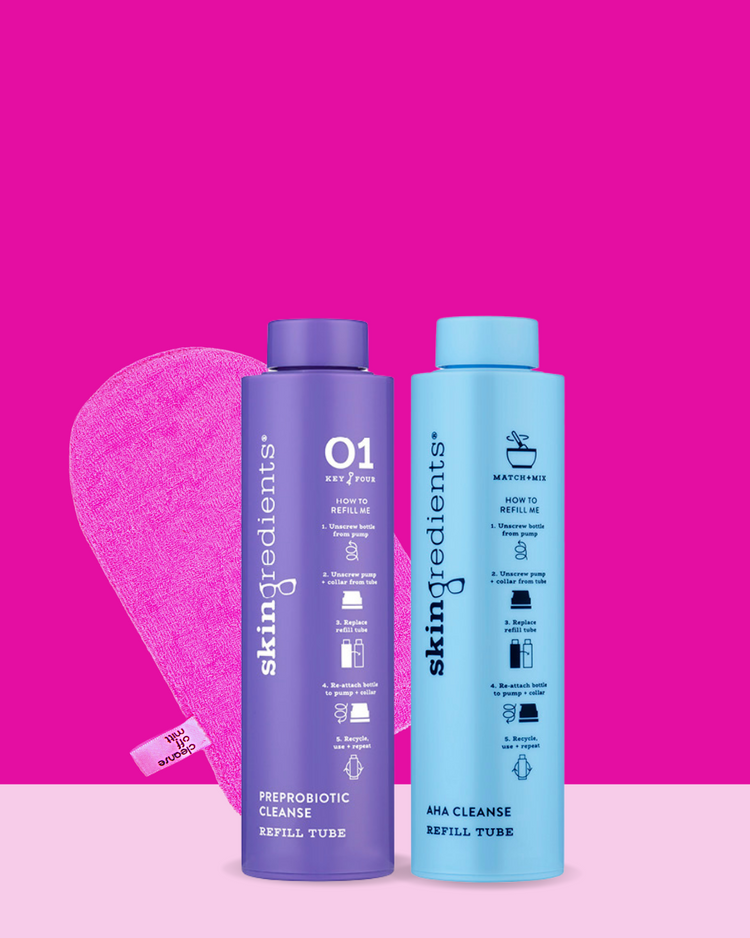 Skintastic products
My go to every day for glowing skin